Time to Buy the Garden Seeds!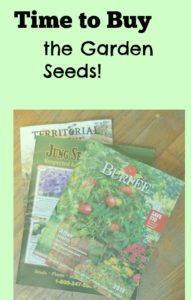 It's time to stop thinking about the spring garden and buy those seeds. They won't plant themselves!  Here is our tentative plan for the 2018 growing season.
I will Care More About the Garden
I have more free time this year, and determined to have a great garden. Many times, life gets in the way and the garden starts to get neglected. In spite of this we usually have a good haul. But I am going to pay more attention, and be more organized this year. This is a garden for two people. It's pretty small, but it's just us!
Seeds to Start
Radishes
Zuchinni Squash
Yellow Squash
Butternut Squash
Delicata Squash
Big Mama Hybrid tomato
Biker Billy Jalapenos from seed
Tigger Asian Melon-I've grown melons successfully before, but this will be a new variety
Green Beans
Herbs
Basil
Cilantro
Marjoram
Note: We have rosemary, thyme, mint, oregano growing in pots year round
Plants to Buy Local
These plants are ones that  I only want one plant of. It does't behoove yourself to buy a pack of seeds when you only want one plant. These plants are kind of generic, where it doesn't matter what the variety is.
Beefsteak Tomato
Green/Red Pepper Plant
Grape or Cherry Tomato
Yellow or low acid tomato
New to Me
These will be new to me to grow:
Turnip Greens 
Futtsu Black Early Winter Squash
Tigger Asian Melon-this looked like a cool melon to grow
Sprouts-We are going to try three different types of sprouts. This was spurred by our local grocery stories (all 3 of them) no longer spouting the generic Asian "bean sprouts" can.  If you can't beat 'em, grow 'em!
Try Try Again
These are plants that I have not had much success with growing. (See first point above, I will care more about the garden)
Brussel Sprouts
Loose Leaf Lettuce
Cilantro