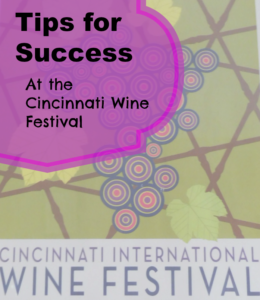 We love the Cincinnati Wine Festival. We ..think.. we've been going for the last sixteen years. Our Wine Spreadsheet doesn't start until 2004, but we know we went before we started the spreadsheet. We know we didn't start going until we moved here, in 2000.
We were going to the Cinti Wine Festival before they practically had a web site. They certainly didn't have a program online. We thought we would share our thoughts for a successful wine tasting.
Tips for Success at the Cincinnati Wine Festival
Book a Room
You need to stay near by. Do not drive home. You will not want to. Book a nearby hotel where you can make with the merriment until closing time. (Then you can go somewhere else.) There are four or five hotels within stumbling distance from the Convention Center.
Go Eat Somewhere Early
Yes, eating at five o'clock is pretty outrageous for some folks. But we like to get a full stomach of food to soak up that wine. We eat out somewhere in downtown Cinti, so we can refresh quickly in the hotel room before heading across the street from the Convention Center.  You also want to go somewhere with quick service.  You're not really there for the ambience and atmosphere-you need to eat. Oh, also, have some iced tea or soft drink with dinner, you'll be getting to the wine soon enough!  Our favorites the last few years: Akash on East Sixth Street and Raya Lebanese Restaurant at 801 Elm Street.
Pour it Out
Wine tasting is just that. Swirl the wine around in your mouth, enjoy it, savor it, then spit it out.  But the spit buckets at the Cinti Wine Festival are too high to elegantly spit into.
The pourers at CWF pour generously. Pretty much too much wine. So sample your first sip (I'm swallowing) maybe the second sip–and pour the rest out. If you are a bit embarrassed to pour it out in front of the energetic pourer (who may be the wine maker) move on and pour it out at the next booth.
Enjoy yourselves
This is an excellent venue to try new things. My husband and I kind of hate Pinotage. Our favorite remark about it was "tastes like a urinal cake" (if we had ever sampled such a thing). One vendor got us to taste his booth's Pinotage. Our reaction? It was excellent. (Seventy dollar bottle, it should be excellent!)
Do you only drink white? Try red. A dry red snob? Start your evening with whites before you hit the reds. What do you have to lose?
Walk up and try any varietal that you have never heard of before. This is how you learn! Never drank a wine from Portugal? Kentucky? Greece? France? This is the perfect place to try it out. What's the worse thing you will do, pour it out?
A Few More Tips
If you can, don't wear a coat/jacket, then you can avoid the coat check crush (if you remember you started out with a jacket.)
Avoid food and wine early at the CWF that will queer your palate. Try the chocolate wine, sugary ice wines at the end of your evening. Don't sample the smoked fish early, you won't be able to taste much after that. Don't drink a big bold zinfandel for your first sample.  Look for a prosecco, a pinot gris or grigio to clean your palate a bit.
Don't count on the food supplied at the Wine Festival to be your food for the evening. It could, I guess, but didn't you go the CWF to sample wine not chow down on hors d'oeuvres.
Friday evening is generally less crowded than Saturday evening.
Above all, have fun, discover some new wine! Cheers!